Welcome to The Mosaic Guy
If you're looking for a unique gift that is not only guaranteed to be a big hit but is thoughtful, personal, and simply,  just really cool, well.. you've come to the right place.
With 50-200 of your personal photos, I will create a stunning mosaic, by morphing your photos seamlessly into one main image, creating the perfect gift for the person who has everything.
Just Imagine the look on your loved one's face when you present such a unique and personalized gift. Finally, a creative way to display all your pictures in one place.
The best part is your Mosaic will be designed by a true artist, without relying on an automated or "cookie-cutter" program. We will design your mosaic with the utmost clarity and quality, unmatched by any program or service.
Wedding gifts, Anniversary, Milestone Birthday, Pet Tributes, Graduation, Retirement gifts, Corporate, or to simply honor a loved one, the list of giving such a unique gift is endless.
We are so confident that you will love your mosaic, we will design it BEFORE you pay and send you a preview first. If you're not happy with the results, you don't pay! Yes, we understand the risk and hours devoted to designing your mosaic, but we want to gain your trust first. 
1) We Design it 2) You Review it 3) You order it  4) We ship it
Let us create your next special keepsake today with our NO OBLIGATION order method, no payment until it is complete and approved.
 Call or send us the short questionnaire, and when your mosaic is approved, you can place an order through our store.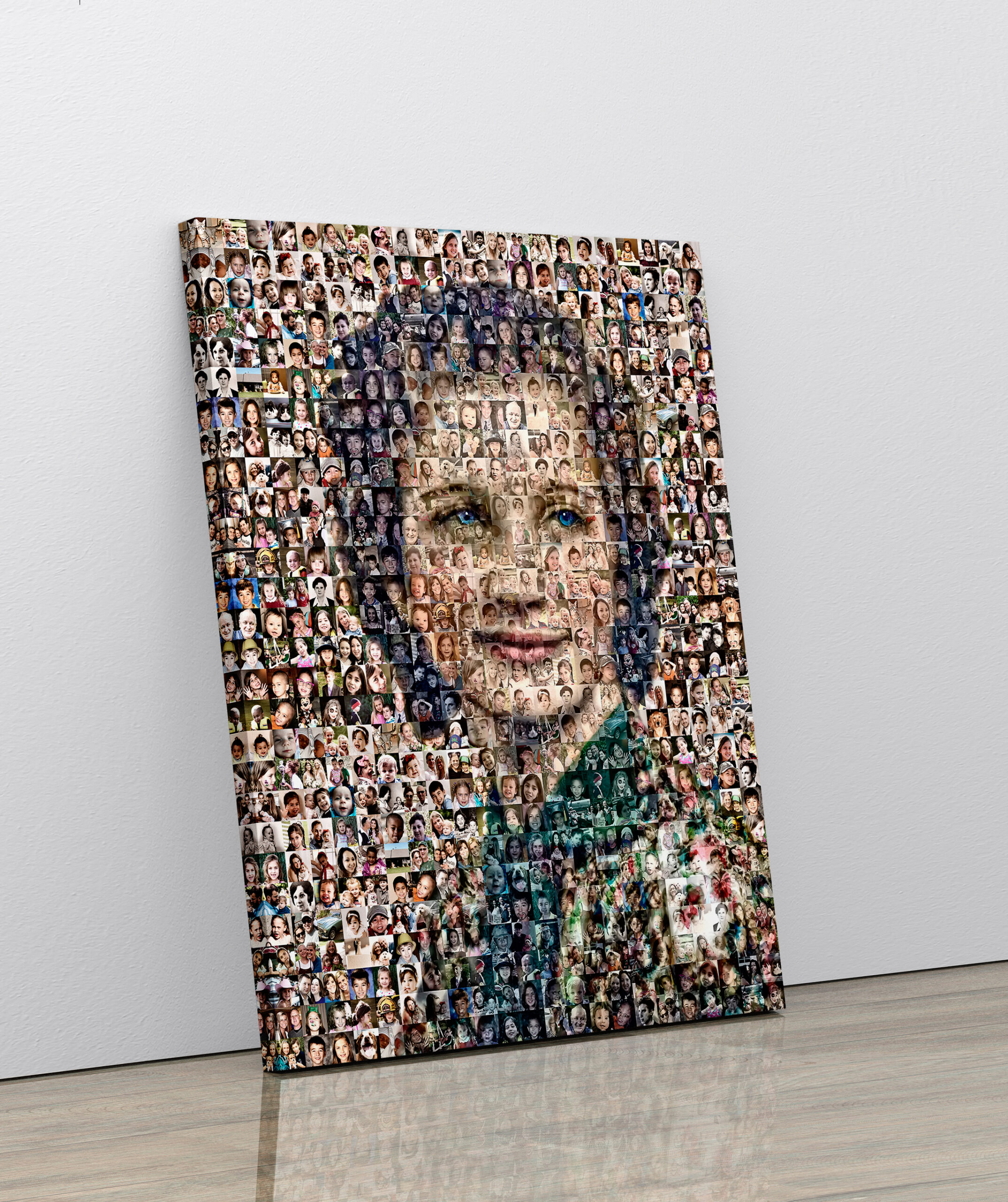 Purchase your Custom Mosaic at our Store
Purchase a Sports/Special interest mosaic
SEE MY WORK IN PERSON AT AN ART/CRAFT SHOW NEAR YOU
2021 SHOW SCHEDULE COMING SOON, PENDING COVID-19 RESTRICTIONS
While 2020 was a bust for art fairs, I hope to be back out in 2021. Please check back soon.
Do you want a Custom Mosaic
Have you ever received a gift of such personal meaning that it made you cry?
(in a good way, of course)
A custom mosaic by The Mosaic Guy will do just that! Contact The Mosaic Guy to create a truly unique gift that will "WOW" your loved ones so much that they will proudly display it as a treasured keepsake for life.
Why Choose the Mosaic Guy?
Beautiful, Professional Results at an affordable price!
Number of Satisfied Customers
Custom Mosaics? We have all occasions!
You'll Receive a Lifetime of Memories Preserved in a Stunning Work of Art
I want to thank you so much for the beautiful memories. This is easily the gift of the year! I cannot tell you how much we all loved it, and how many memories we had forgotten. So thank you for the beautiful creation.
Brad & Kim S
Custom Mosaic for Christmas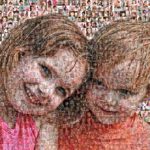 Oh my God, it is beautiful! Thank you very much. I am going tonight to get an easel. I love it! I can't believe you did this. I have wanted to do this for the longest time. Thank you again.
M. Oelanz
Custom Mosaic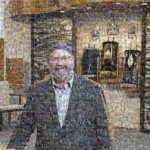 He absolutely loved it. Now he can't decide where to hang it! Thank you so much for all that you did for me and for putting up with all of my requests. My biggest problem for next year is how to top this present!!
Ginny B. – Deerfield MA
Custom Mosaic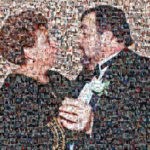 I wanted to thank you for the mosaic for my parents.
They loved it and it even made my mother cry, which in this case is a good thing. Thank you for all your help and for being accommodating when it came to getting the mosaic to New York in time for Christmas.

Brendon M.
Custom Mosaic as a Christmas gift for his parents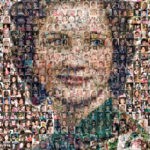 My mother (and everyone else who saw it for that matter) absolutely adored it
.
Nobody could believe how original it was and how many amazing pictures were in there. I have shared your business cards.

Pam
Custom Mosaic for her mother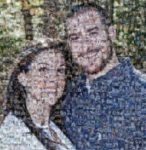 David, the mosaic arrived today and we loved it! Although I had planned to surprise my son and his fiance with it at the wedding, I decided to show it to them now. I had them approach it from 30 feet away. As they got closer, they couldn't figure out how the portrait was made. When they realized it was pictures of them, they were so funny. They went through all the pictures, talking about where they were taken and what they were doing at the time. They love it and it really represents their relationship so far. Thank you so much!
Marie C.
Custom Mosaic for her son's wedding
We got the mosaic yesterday and it looks fabulous! Thank you for doing such a great job and doing it so quickly! I will highly recommend you!
Leslie J.
Wedding Mosaic for her daughter
I LOVE IT!
I'm SO excited. It'll take ALL of my strength to make myself keep it a secret until the wedding! I can't wait to show him. He's going to LOVE it! And you just got yourself some more business. A friend of mine wanted your info to do this with her wedding pictures. She said it's the coolest thing she's ever seen. Thank you so much again. This is the perfect thing for him!

Steph S.
Custom Mosaic for her wedding

This was the perfect 1st wedding anniversary gift for my husband. What a fabulous way to commemorate our relationship thus far. David was also super helpful in selecting the best photo for the best outcome. Thank you!!

Tailia Kornfeld
Custom Mosaic for her 1st anniversary
He did an awesome job. I received a lot of compliments on this portrait. He was very patient, very helpful thru the whole process. I will definitely use this company again. Excellent quality!! Excellent work!!!!

Kathleen Thomas
Retirement Tribute
Everything was perfect! My husband loved his Father's Day gift! Seller was very quick to respond and provided EXCELLENT customer service!

Linda Seng
Custom Mosaic for Father's Day gift
It's more than what I expected. David helped me a lot in choosing the main picture, as i was bit confused. Thanks David. I just love this mosaic.
Manyitha Yenman
Custom Mosaic Wedding
David was great to work with and was patient while we nitpicked his original draft. The Custom Mosaic came out great and is such a special gift, something we will cherish for many years. Matting and framing was also professionally done and shipped in a very reasonable time period. Would highly recommend.
Austin Ferguson
Custom Mosaic
 We love this product!! TheMosaicGuy was great to work with. He patiently answered all of our questions and the quality came out even better than we could have hoped. We will definitely be purchasing again the next time we need a mosaic.
Jeanette Weston
Custom Mosaic Anniversary


I had a custom photo mosaic created as a gift for my husband's milestone birthday. David was wonderful to work with and was very helpful in answering my questions. The mosaic is incredible!
Tammy
Custom Mosaic Milestone Birthday


Referrals from satisfied customers account for 90% of our sales today. We also attend craft shows throughout the country because we believe our personal interaction with consumers and limited retail distribution is what makes our products unique and special. All of our products and services are created, designed and manufactured by our team.